Every house has a bathroom. The bathroom is one corner of the house that is often taken for granted. But at the same time the decor and the way it has been maintained can represent the owner of the house. The bathroom decor can tell us a lot about the person living in that house. When talking about bathroom decor bathroom sinks are one of the most important pieces in your bathroom as they are a focal point which we use daily. Among the various styles, sizes and shapes that are available in the market the bathroom sinks can be divided into broadly 6 categories
* Wall Hung Sink
* Vessel Style Sink
* Under-Mount Sink
* Pedestal Sink
* Self-Rimming Sink
* Console Sink
To choose a bathroom sink, you have to consider how big or small your bathroom is. Certain sink styles work better in small bathrooms, like pedestal sinks or wall hung sinks. While others offer good options in larger bathrooms like self rimming or under mount sinks. Eventhough design plays an important role in the bathroom sink, the most important is the function. Make sure you like how your new bathroom sink works and how it feels since you will use it everyday.
Modern glass of Bathroom Sink
Modern unusual of Bathroom Sink with unique design
Elegant Bathroom Sink made from stone
Unique Bathroom Sink with creative design ideas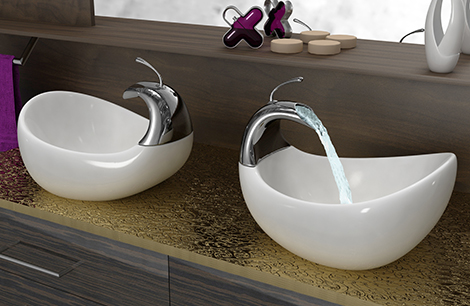 Glass Bowl Bathroom Sink. Whether you want a bit of a change in your bathroom or plan to renovate the whole room, glass bowl bathroom sinks are an excellent choice and are not very expensive. They are a fun modern look that is becoming very popular, adding an allure to an often boring home area. Glass sinks are also easy to clean, as a bonus, and really spruce up the room with their elegance and shine. They are available in ovals, squares or in large circular bowl shapes. They are featured in many colors, designs and styles to express your individual preference. Another name for glass bowl bathroom sinks is vessel sink. The glass bowl is just as the name implies, a large glass bowl under the faucet to catch the water. An ultra contemporary and sleek look is to combine a glass waterfall faucet with the glass sink. The sinks can also be illuminated by installing lighting underneath as the light shows through some materials to make a beautiful glow. Whatever sink you decide on will make a lovely addition and improvement to your bathroom that you will enjoy for years to come.
Modern glass European Bathroom Sink
The wonderful thing about using a natural stone sink is the everlasting lifespan, these stone sinks are sure to last a lifetime and be a beautiful addition to any home for decades to come. Maintaining a stone sink is a lot simpler than most people may think, as long as the correct sealer is places on the stone sink then cleaning is a breeze.


Unique Bathroom Sink made from stone
Modern glass European Bathroom Sink with yellow color
Unique shape of Bathroom Sink with white color of glass
Beautiful Bathroom Sink looks elegant
Sweet Bathroom Sink with lighting ideas